Non-Canon
The content of this page is not canon, and therefore, should not be interpreted as part of the lore.
Slendytubbies: Anniversary Edition
Developer(s)
ZeoWorks
Engine
Unity 5
Platform(s)
Microsoft Windows, OS X, Android, iOS
Release
December 12, 2015
Genre(s)
Survival Horror, Item Collecting
Language(s)
English, Spanish, (Norwegian, Dutch, Polish, Portugese, Turkish and Thai in Android Edition)
Canon?
No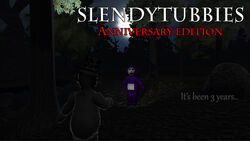 Slendytubbies: AE is a remake of Slendytubbies. It was made to celebrate the third anniversary of the first game.
Description
12/12/12 was the date the original Slendytubbies game was released. It has been 3 years since. And so, without further ado, we present to you Slendytubbies: Anniversary Edition! A HD remake of the original Slendytubbies game to celebrate 3 years of tubby horror!
Featuring the ability to switch between classic graphics and the new remastered HD graphics ingame. Slendytubbies Anniversary Edition includes both Singleplayer and Multiplayer. We released this game as our way of saying a big thank you to everyone who has supported us up to this point with game development. You have changed our lives and I hope we can continue to make great quality indie games for you to enjoy!
To switch between classic and remastered HD graphics, press V at any time.
Maps